Admiral Byrd Students Put Their Good Deeds on Display
On March 13, 2018, the Community Character Coalition (CCC) of Elk Grove, in coordination with the Mayor and Village Trustees of Elk Grove Village, recognized local youth for their community service work. Both groups of and individual students were honored at the celebration for their hard work and efforts to help people in the local and global community. The annual recognition ceremony was held at the village in the evening, and it recognized children who displayed two of the Six Pillars of the CHARACTER COUNTS! Coalition, citizenship and caring.
Students at Admiral Byrd Elementary, along with Grove Junior High and Robert Frost Elementary, were among those recognized at the event for their efforts in helping others, and Byrd had representatives of varying ages attend the event, along with their teachers.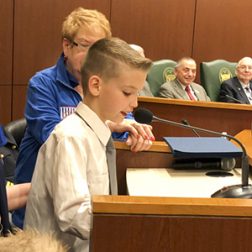 The students being recognized presented their service projects via displays and booths available for public viewing at the Elk Grove village hall. The public was invited to view the service projects in support of the students' efforts and to thank them for their dedication to helping others.
The students seamlessly explained how their efforts helped a variety of people to both interested attendees who stopped by their displays and at the podium in front of a large crowd.
"The first and second grade students did an amazing job speaking in front of a large group of people at the podium to present our project," said Sara Magnafichi, who teaches first grade at Byrd and attended the event with her students. "They had mentioned that they were nervous prior, but afterwards expressed how proud of themselves they were for persevering."
First and second graders at Byrd helped Ronald McDonald House's Winfield location by collecting over 53,000 soda pop tabs to date to donate, which are recycled for funding. Fourth graders collected winter clothing for Catholic Charities and worked with fifth graders to prepare origami kits for children at Amita Health Alexian Brothers Hospital, which included both the origami supplies and a "how-to" video they created. Fifth graders also helped people in Mexico impacted by earthquakes by collecting first aid items and toiletries to send. The fifth grade class also orchestrated "Socktober" where they collected pairs of socks for CCSD59 families.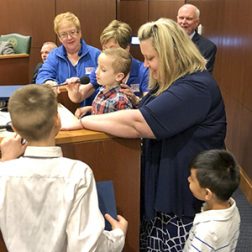 These displays featured at the event were just a portion of the many activities Byrd students developed and implemented this year to help the community, both locally and globally.
During the board meeting, youth participants were formally recognized by the Mayor with a certificate and had the opportunity to take a photo with him. The event was also televised on Elk Grove Public Access TV.
Carolyn Duffy, who teaches fifth grade at Byrd and attended the event with her students, said it not only recognized them for being good community members, it also provided a real-world, memorable learning opportunity. Empathy towards others and awareness of their needs, seeing a project through from start to finish, and real world application of public speaking were all touched on during both their project work and the CCC event.
"They created everything from the Google slide presentation to the speech explaining what their project was all about without any help," she said. "They did not hesitate to all have a part in the public speaking portion, taking a risk to share their project. To me, they all have the life skills to be very successful!"